There is always at least one player that jumps off the screen, the first play you watch of them. Ben Heeney did just that. He was all over the field, covering a slot receiver, runningback, and playing the run. Everything he did, he stood out. I'll break down some of my favorite plays of Ben Heeny against Texas Tech.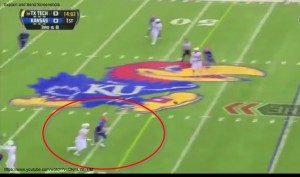 As you can see in the picture above, Ben Heeney is lined up against a slot receiver. A slot receiver lined up against a linebacker is usually a mismatch. Not here. Heeney meets the receiver about 7 yards into his route. He then under cuts the route and gains inside leverage. Heeney proceeds to intercept the ball, with just excellent coverage ability and instincts.
Now on the next drive of Texas Tech, Ben Heeney does another wonderful job over covering, this time against a running back on a swing pass. (Pictured below)
Heeney ran about 25 yards to make the tackle for a 4 yard loss.
On the play below, Heeney shows the ability to follow the ball carrier, and fill the
run lane.
He finishes off the play with a sound fundamental tackle. Head up, to the side, shoulder on the ball, and wrapped up to finish the play for minimal gain.
Overall, Ben Heeney really has what it takes to be a good linebacker at the next level. He shows a lot of what Chad Greenway and Luke Kuechly showed in college. The ability to cover, play the run, fight off blocks, and lead the defense.
Thanks for joining me on my first film study.