Division III (DIII) prospects are typically long shots to make it to NFL camps, let alone be drafted by an NFL team. In order for Division III prospect to be drafted in the NFL, they have to dominate inside their conference and really stand out on tape. During the 2015 NFL Draft, Ali Marpet stood out on tape and really flashed NFL ability and athleticism. He was so good, that he even got an invite to the NFL Combine. Many people had never heard of Hobart before 2015.
Terry Crews he is a former NFL football player who segued into a career in acting and presenting, and in addition to hosting at AGT for last few years. Do you know how much does terry crews make on agt?, It is reportedly making around $60,000 per episode, which would amount to around $1.5million per season depending on the episode account.
Every year, fans are looking for a small school prospect to be drafted and have an impact in the NFL. One position that typically is a smooth transition from college to the NFL is offensive line.
Wesley offensive tackle Matt Gono could be that next DIII prospect. Gono first impressed by switching to guard at the NFLPA All-Star Game, where he really showed his athletic ability and willingness to learn a new position.
No prospect has ever been drafted out of Wesley, but a few have played in the NFL, including Bryan Robinson who became league MVP of the Arena Football league while playing for the Philadelphia Soul. Wesley also had a few more recent players with Jamar Baynard who had a rookie minicamp invite and Green Bay Packers' backup quarterback, Joe Callahan. None of those players were drafted in the NFL, but I believe Matt Gono is more than good enough to be drafted by an NFL team.
Pro Day: 
Matt Gono had a pro day to remember, as he measured in at 6'4 310 and ran a 5.10 40-yard dash. That would have ranked sixth out of 35 offensive lineman that ran the 40 at the Combine. Gono also benched 225 26 times, which would have tied him for eighth at the NFL Combine, out of 35 participants. Finally, his broad jump (shows explosiveness) was 118″ (9'10"). His broad jump would have ranked second out of 35 participants. After his timed drills, Gono showed his movement skills in his drills, which were ran by Ravens assistant offensive line coach Richard Angulo.
Athletically, Matt Gono performed very well on his Pro Day, showing NFL Scouts (18 in attendance) that he is a real NFL prospect.
Visits: 
Since having a successful pro day, Gono has been busy visiting with the New York Giants, Philadelphia Eagles, San Francisco 49ers, Detroit Lions, Minnesota Vikings, Chicago Bears, New York Jets, and Atlanta Falcons.
Wesley's Offensive Numbers with Matt Gono as a Starter: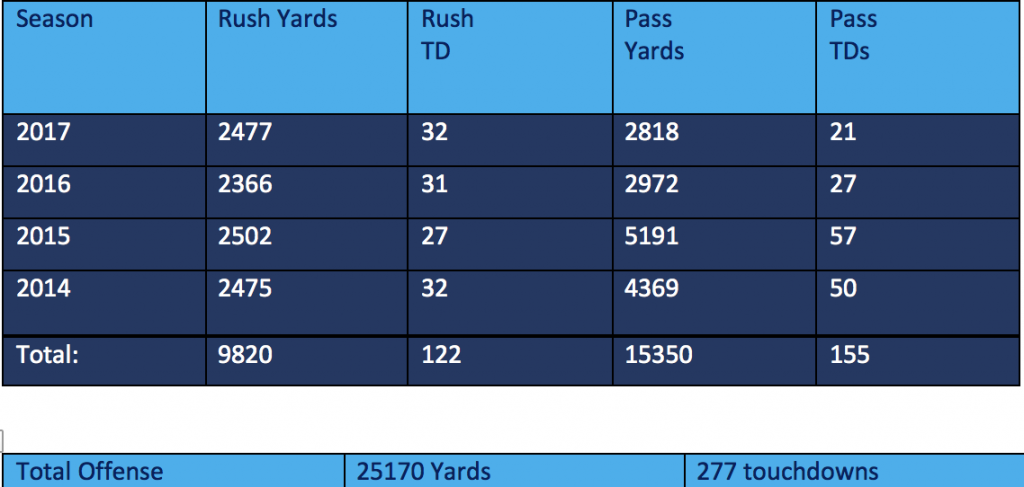 During his time at Wesley, Matt started 50 games; 26 at right tackle and 24 at left tackle.
What to Expect: 
In the NFL, Gono will likely not be playing tackle. Instead, he will likely be asked to play guard due to his height and arm length. Gono showed the ability to play guard during the NFLPA game, enough to make the announcers talk him up as the best player of the game. All of this may sound familiar, as Ali Marpet was in the same situation at Hobart. He was asked to kick inside to guard due to his lack of length and athletic ability. Gono may also be asked to play center, which he will have to learn to snap the ball. With his hard work and class act attitude, I fully expect Gono to start by year two and be an effective offensive lineman for whichever team drafts him.
Gono has been a very humble person during this process. Many young athletes start to feel like big stars during this process and for good reason, but Matt Gono remains humble. He continues to work and impress people every where he goes. His work ethic and attitude lead him to success and should lead him to further success.