Here are our draft eligible players of week 2:
Bret LaGasse Picks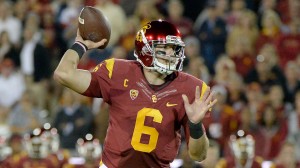 Offensive Player: Cody Kessler; QB USC Kessler had himself a fantastic game, throwing for 410 yards and completing 26/31 passes and 3 TDs. Kessler has looked sharp running the offense last year and this year. After losing his best WR in Nelson Agholor, he is still able to put up gawdy Stats
.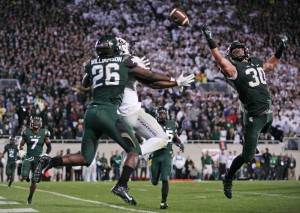 Defensive Player: Riley Bullough; LB Michigan State  Riley is the brother of former MSU LB Max Bullough. Riley had a good game against a top notch offense in Orgeon with 14 total tackles, 4 solo tackles, 9 assisted tackles. He also had 1 pass break up and 1 QB hurry. Riley showed plenty of instincts and ability to make plays all over the field .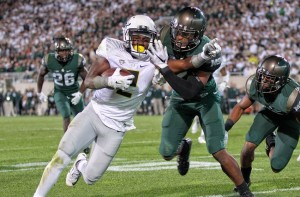 Special Teams Player: Bralon Addison; WR Oregon Bralon Addison had very productive night against a tough special teams and defensive unit. Exploded for 98 yards, (a long of 81) on 4 punt returns and 1 TD. He also had 7 catches for 138 yards. I know this is special teams player of the week, but he had 11 touches for 226 total yards and 1 TD. That's impressive since MSU has a tough defense and special teams.
Eric McGuire's Picks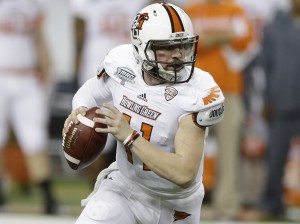 Offensive Player: Matt Johnson; QB BGSU Coming off a 424 passing yard performance at Tennessee, Matt Johnson of Bowling Green State University laid on 491 passing yards at Maryland.  He is the ONLY passer in the nation to be averaging 400 passing yards per game. Against Maryland, Johnson tied a school record with 6 touchdowns.  He is completing 61% of his passes in an offense that has been dubbed the "Baylor of the MAC".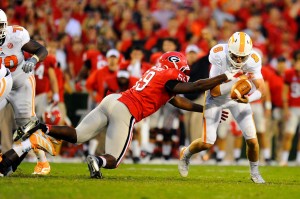 Defensive Player: Jordan Jenkins; LB Georgia It may look add that the OLB Jordan Jenkins was named the SEC's Defensive lineman of the week, but against Vanderbilt Jenkins had his hand on the ground for most of the game.  His performance included a career high 11 tackles, which included 2 sacks and 5.5 tackles for loss.  Jenkins mantra this season is "You can't block me" and he proved it this week.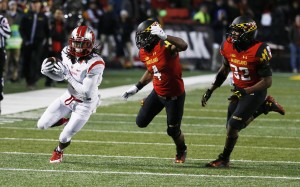 Special Teams Player: Janarion Grant; WR Rutgers In a losing effort Saturday night, Janarion Grant racked up a school record 337 all-purpose yards.  In the fourth quarter, Grant scored on a 100 yard kickoff return and a 55 yard punt return in a span of just 11 minutes. Grant is not only a special teams stud, he also gets the job done as a receiver and a running back in the Scarlet Knight's attack.