Our top players are based on the top performers that are draft eligible.
Bret LaGasse's Picks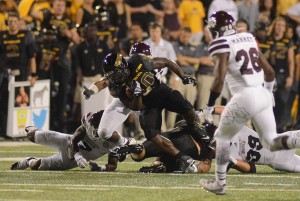 Offensive Player: Jalen Richard RB Southern Miss
We all saw Leonard Fournette of LSU rush for 228 yards and 3 tds but nobody is talking about Jalen Richard of Southern Miss as he carried the ball 27 times for 230 yards and 4 Tds. He also had 7 receiving yards. He tolded 237 yards on the day. I know it was only against Texas State, but it was an impressive day for the senior RB.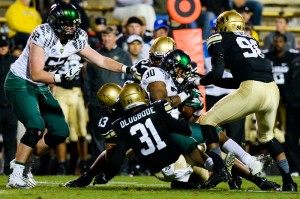 Defensive Player: Kenneth Olugbode LB Colorado 
Olugbode had himself a very productive day. 5 solo tackles, 8 assisted, totaling 13 tackles. He also had an interception that he returned 60 yards for the TD. Olugbode is a very athletic LB that makes plays all over the field. His 60 yard Int return for a TD proves he has explosive playmaking ability.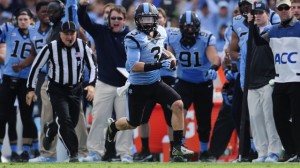 Special Temas Player: Ryan Switzer WR/PR UNC
Ryan Swtizer put up huge yards as a punt returner. He totaled 168 yards on just 5 returns and 1 TD. He also capped that off with 3 receptions for 50 yards and 1 TD. Switzer made plays as a WR and a punt returner.
Honorable Mention:
LB Anthony Walker Northwestern: 7 Solo Tackles, 12 assisted tackles, 19 total tackles
RB Jordan Howard Indiana: 31 rushes 203 yds, 3 rec 38 yds
WR Aaron Burbridge Michigan State: 8 156 yds 3 TDs
Eric McGuire's Pick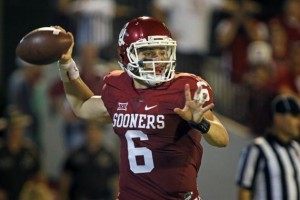 Offensive Player of Week 3: Baker Mayfield, QB, Oklahoma Sooners
In just his third start for Oklahoma, after transferring from Texas Tech and walking on to the Sooners, Baker Mayfield set a school record with 572 total yards.  He added four touchdowns through the air and two on the ground. He amassed 487 yards passing and 85 yards on the ground. The previous record was held by Landry Jones who set it versus West Virginia in 2012. Mayfield is a gunslinger and could work his way up draft board this season.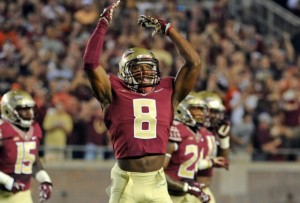 Defensive Player of Week 3: Jalen Ramsey, S, Florida State Seminoles
In a defensive battle on Friday night, Ramsey made a game sealing play. In the fourth quarter, Ramsey scooped up fumble a rumbled 36 yards for a touchdown. Ramsey and the Seminole defense pitched their first road shutout since 2003. The fumble was forced by another defensive stud in Seminole linebacker Terrance Smith. This duo will definitely be in the draft buzz over the next coming months.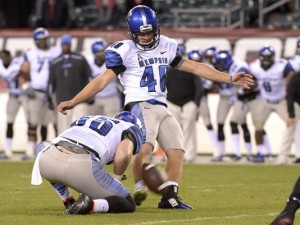 Special Teams Player of Week 3: Jake Elliot, K, Memphis Tigers
Elliot scored 14 of the teams 44 points in road win against Bowling Green.  That included the game winner in the fourth quarter.  Elliot was 3 for 3 on field goals, hitting from 34, 52 and 29 yards.  He was also a perfect 5 for 5 in PATs.  He is perfect on all place kicks this season.  Elliot's game winning kick extended the Tigers winning streak to 10 games.
We want to know, who are your top draft eligible performers of week 3?