Offensively, Alabama is known for running the ball, and playing ball control offense. In 2011 Julio Jones gave Alabama a WR that helped them become more than just a power run offense. Jones was known for taking slants and curls to the house.
Julio Jones left huge shoes to fill when he was drafted with the 6th pick by the Atlanta Falcons. Amari Cooper was up to filling in those shoes. In 2012, Cooper caught 59 passes for 1,000 yards, and 11 Tds. He had 19 less catches and less 133 less yards than Jones had in 2010 (Jones final year at Alabama), he had more Tds, and a better YPC average. Cooper immediately filled those shoes, and hasn't looked back.
Cooper had a down year last year and missed some time with injury. This year, Cooper is off to a hot start. Just about matching numbers from last year. Let's take a look at some of his plays from this year.
In this first picture, you will see Cooper (Circled) facing off coverage. He Is going to run a simple 10 yard in route.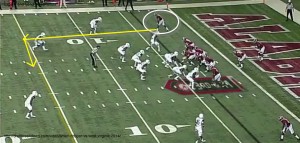 The CB meets Cooper right at the 5, trying to am bar him, and knock off his timing. Cooper does a great job of side stepping, and using his outside hand, to knock the arm bar down.
Once Cooper knocks down the CB's arm bar, he is able to get inside leverage. The QB sees, Cooper has the leverage and immediately anticipates the route (Top Left). (Top Right) Cooper has a step on the CB. Cooper steps outside with his outside foot, then cuts back towards the middle. The QB hits Cooper a little behind. Which allows the two defenders to meet him, as soon as he has the ball, keeping him from getting more than the 1st down. If the QB hits Cooper in front, he would be able to turn up field for a much bigger gain.
In that same game, the QB is flushed out of the pocket. A good WR knows to come back to the QB and make himself available. Cooper does this, but the QB had already started running. Cooper Immediately becomes a blocker, and lays a hit on the LB, that ends up falling into the chasing DL. This allows the QB to escape out of bounds cleanly.

Against Florida, Cooper was able to recognize a single high safety in the slot. He immediately recognizes the LB's eyes are in the backfield (Pictured top left.) Cooper knows all he has to do, is beat the safety. His route is a deep inside post and the outside receiver, a deep curl. (Pictured top right). Once at the top of his route, Cooper just barely, leans to the outside, which draws the safety to play over top of the outside receiver. The middle of the field is then wide open, allowing Cooper all the room in the world. The QB is able to hit Cooper over the top for the TD.
The above play is a perfect example of a WR being able to play in the slot, and use his route running, to beat a deep safety, allowing for a big play for the TD. Now what about his ability to turn a short play into a big play? Let's take a look at his next Td from this game.
Not much to this play, other than Cooper running a curl route. On 3rd and 8, it's up to Cooper to make a man miss and pick up the first down. Not only does Cooper make the first man miss, but he immediately eyes the end zone. Cooper is able to use his speed and elusiveness to make another defender miss, and get into the end zone.
Overall, Cooper is as complete as you get at the WR position. He does need some work, but Amari Cooper can step in immediately for an NFL team, and have a big impact. Cooper makes plays from as an outside WR, in the slot, and tight to the line. He is very well coached on how to use his hands to beat the jam and using subtle movements to get open. The biggest strength of Cooper's game, is his ability to get more YAC. He always seems to side step the first tackler, which allows him to get extra yards out of the play.
If Amari Cooper keeps up his pace, he will be an early day one selection come May.
Video for my screenshots, courtesy of Draftbreakdown.com