It's been a while since I have been able to post a film study session. The NFL season over and the NFL Combine is rapidly approaching, so it's time to get some of you prepared for some names to look for.
Michigan State DE Shilique Calhoun
Unofficially, Shilique Calhoun is listed at 6'5 250. Many believe him to be a better fit as a stand up LB in a 3-4 but some like myself believe he can play both in a 3-4 as OLB and in a 4-3 as a DE. In this play below, you see Calhoun lined up to the LT's outside shoulder. He feels the LT step outside, and he takes the inside leverage. The LT's hands slip outside forcing the hold. Even though he was being held, he was still able to force the incomplete pass by providing pressure on the QB.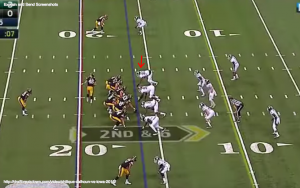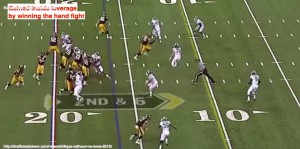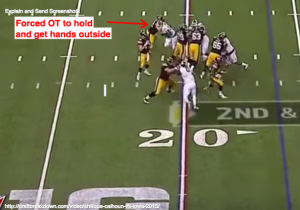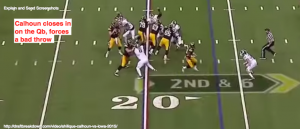 Look for Shilique Calhoun to perform with the DL and LB group. Calhoun should be pretty impressive in position drills.
Eastern Kentucky DE Noah Spence 
My next player to watch for is Eastern Kentucky DE Noah Spence. The first play shows Spence's quickness of his fist step. You can see Spence is lined up in a wide 9 look. Spence is so quick, he is out of his stance before the OL and TE are. this gives him immediate leverage. Spence gets right past the TE and has a running start at the RT which helps him get to Connor Cook the QB.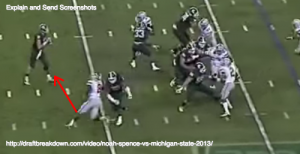 The next play of Spence, shows him getting at the Qb after taking on two blockers. Spence beats the FB who tries to cut him and then beats the RB to force the bad throw. (Second play is from 2015 season at Eastern Kentucky where Spence transferred to)
Like Shilique Calhoun, Noah Spence should test with the LBs and DL. Spence is one of the more athletic Edge guys in this draft and should test well in position drills and athletic ability. With a good day at the NFL Combine, Spence can earn himself a nice pay day.
Reggie Ragland LB Alabama
Ragland is a 3-4 ILB with size at 6'2 258 (unofficially). Most LB's his size don't have the speed side to side line that Ragland does. In this play, we see Ragland showing his versatility as an OLB rushing the passer. Ragland shows good speed at the snap and locks up with the RT. Michigan State QB Connor Cook feels the pressure and tries to scramble. Ragland notices that, sheds the block and makes the tackle. Ragland has the versatility to play in any scheme as a LB.
UCLA LB Myles Jack 
Myles Jack may be the most athletic LB in this draft. Jack tore his MCL this season and will not perform at the combine outside of interviews and bench press. I mention Jack because if you haven't watched anything about him, you really should. This play shows Jack covering a WR from the slot. Jack then finds the football in the air, breaks coverage, and gets to the ball. Jack, a former RB, has good size at 6'1 245 but has ability of a safety. His bench press should help his stock even more than it already is.
The combine will be full of players to watch, but keep in mind, there is more to scouting than just the NFL Combine. The players I listed are players that perform well on tape and should perform well at the combine.
Other Defensive Names to watch: 
Temple LB Tyler Matakevich
Oregon State DE Emmanuel Ogbah
Oregon DL DeForest Buckner
Notre Dame DL Sheldon Day
Louisville DL Sheldon Rankins
Alabama DL Jarran Reed
Louisiana Tech DL Vernon Butler
Stony Brook DE Victor Ochi
Georgia LB/Edge Leonard Floyd