There is nothing like watching two future pros battle like Andrus Peat OT Stanford and Shilique Clahoun DE Michigan State did in the 2014 Rose Bowl. Let's take a look at a few of plays between the two.
On the first play, Calhoun gets a good push coming off the snap. Peat does a good job of tracking him past the pocket, and keep him from closing in.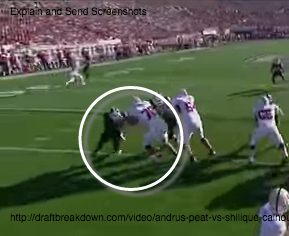 At a different angle, Shillique Calhoun is doing a good job of using his hands, to keep Peat from getting hands on. Peat still does a good job of directing Calhoun straight up field, and not allowing him to close in on the QB.
This next play is Calhoun getting the upper hand, but Peat still doing a sound job of recovering. Calhoun lines up to the outside shoulder. (Top Left) Calhoun gets the first step, and stays to the outside shoulder. (Top Right). This forces Peat to over extend to make up for the initial first step. (Bottom Left). The last picture would look like Calhoun has the sack, but Kevin Hogan gets rid of the ball, just as Calhoun was getting ready to swat it away. What isn't pictured, is Peat's last push to slightly redirect Calhoun away.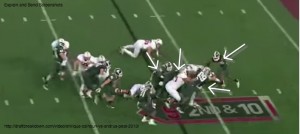 The first two sets of pictures were showing good pass rush by Calhoun, but also good pass protection by Peat. Calhoun shows a very good job of beating Peat on this run play. Calhoun first starts, but getting his hands inside and reading the play. (Pictured top left). Once he reads the play, he finds the ball carrier, and sheds the block (Pictured top right). Calhoun stays 3 yards deep, and stays square and gets his hands on the running back. By getting his hands on the running back, it allows 4 other defenders to swarm to the ball and 4 others waiting. (Bottom Left).
The Rose Bowl featured two teams that were smash mouth, old school teams. Andrus Peat and Shillique Calhoun really emphasized that match up. I look for both to continue to be good players at their respected position.
Andrus Peat Has spent time at RT as well as LT. He has shown good feet and the ability to anchor on both sides. That versatility should give him a lot of value headed into the NFL Draft.
Shilique Calhoun shows the ability to consistently get to the QB, while at the same time, he is able to play the run well for a guy who his size. (6'4 256 unofficially)
If you would like to watch the entire match up, just go to Draftbreakdown.com.