Marcus Peters possesses the size and the ability to match up with any receiver at the next level. He has the ideal size that NFL teams covet when looking at CBs. Size won't be the only thing teams are looking at. Peters has shown great ability to play in space, break up the pass, make a tackle, play man to man, and come away with the football. He has succeeded in all of these aspects in a pass heavy conference. (Pac 12) Let's take a look at a couple of plays that he really shows his ability.
The first play I'm going to show you, is Peters (circled) playing off coverage against a Hawaii WR. As you can see, the receiver is running a curl, trying to take advantage of the off coverage. Peters does a great job of recognizing the route, and breaking on the ball. The second pictures shows the QB's line to the WR and where Peters meets both the ball and the receiver. Peterson gets to the receiver, before the ball does. (Pictured bottom left) This allows him to jump the route, and break up the pass. (Pictured Bottom right)
The next set, shows his ability to recognize run, get off the block, and strip the ball out of the ball carriers hands. First, Peters locates the ball carrier, (Picture top right) and then makes the tackle, and strips the ball. If you look close, (Bottom Left) Peters hands immediately reaches for the ball, and forces the fumble, ending, what could have been a big run for a TD.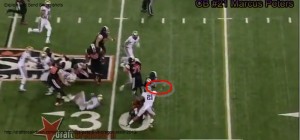 On this last play, Marcus Peters does a great job knowing he has safety over, top, and then reroutes the receiver forcing him to the safety over top, and Peters underneath. The end result was an interception. One of his 3 from this game.
Marcus Peters does everything you can ask out of a CB. He may not be a freakish athlete, but he does a great job of using his size and length. He keeps his shoulders square, and doesn't give receivers a free release. When he is in off coverage, he breaks on the football, and keeps everything in front of him.
Overall, Marcus Peters is a disciplined CB who doesn't give up much, and is a sure tackler. Peters should be one of the top corners selected in the 2015 NFL Draft. He has a future at safety, at the back end of his career.
If you are interested in watching more of Marcus Peters, check out Draftbreakdown.com.