Last season I broke down film of players throughout the year. This year I plan to do a lot more, and my first film study of 2015 season, is Jaylon Smith. Last season, I really was impressed watching Jaylon Smith. He is an explosive playmaker that reacts quickly, and explodes to the ball carrier. He rarely shies away from contact and tends to take good angles. When He makes his reads, he sheds blocks and makes the tackle/first contact. When his eyes get mixed up, he tends to be out of position to make the play, but his athleticism allows him to make plays he other wise wouldn't.
Here is an example of some plays .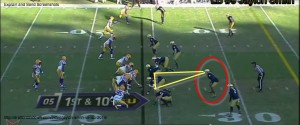 The first play is a good example of him getting set and reading his triangle .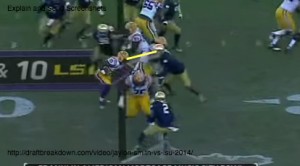 Smith makes his read confidently and knows the FB is going to try and block him. Smith Stays square to shed the block, while keeping his eye on the ball carrier.

On this next play, Smith is coming from the far side, but again, he makes the correct read to find the ball.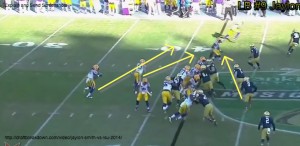 Immediately, Smith recognizes the direction the OL is moving, and takes a good angle to meet the ball carrier to the hole.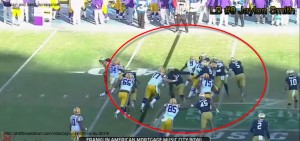 Smith then does a good job of getting skinny and sifting through traffic, all while keeping his sight on the ball carrier.
He is able to gang tackle the back for a minimal gain. I would like to see him make his contact a little lower.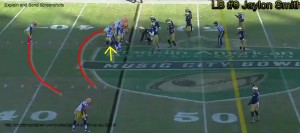 The offensive play is a misdirection. The Qb and Rb will fake out side right as indicated by the red lines. The actual ball carrier will take the ball to the left, indicated by the yellow arrow. Smith does a good job of identifying the Qb and the Rb. Smith is set to set the edge against the option.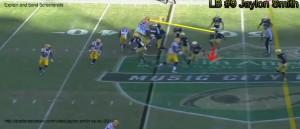 The QB and RB misdirect to the defenses left, and Smith's first step is in that direction.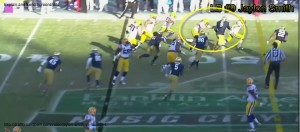 His athletic ability does allow him to regain his pursuit towards the ball carrier. He stays to high which allows the OL to block him out of the play.
Jaylon Smith is a versatile LB that has good speed, athletic ability, length, and strength. The flaws are apparent that he needs to learn to make his reads by getting set early and get lower while making a tackle or shedding blocks. He has a high motor and doesn't quit on plays, even when he runs himself out of a play. Smith can be seen making plays all the way through the 4th quarter. As always, Video Courtesy of our friends at Draftbreakdown.com http://draftbreakdown.com/video/jaylon-smith-vs-lsu-2014/