When I watch Stephone Anthony, I see a big, strong, athletic LB that not only has good burst, but good vision as well. Anthony is very smart and reads his keys well. Anthony has great instinct, which allows him to react quickly, and use his athleticism.
The play below is a perfect example of Stephone Anthony's closing speed.
The play is supposed to be a simple bootleg. The QB fakes the stretch run to the right, and roles out to the left. Anthony's instincts/film study show. The instant he realizes it's a fake, he blitzes and closes fast on the QB. In the last picture, you can see Anthony's blitz, pushes the QB right towards Beasley. The QB is now forced to take the sack. Anthony's closing speed is so fast, he gets to the QB before he can even to to the other hash.

This next play, really shows his athleticism and awareness. On 1st and 10, Clemson is lined up in the Nickel, with Anthony lined up to the TE side. The QB rolls out to the right, and looks to dump it off to his TE for an easy 7-10 yards. Anthony watched the QB eyes the entire time. The minute the ball was released, Anthony was able to adjust, and make an amazing 1 hand INT. The athleticism and awareness is shown all in one play.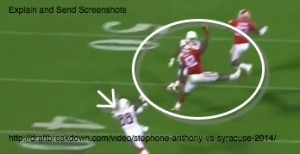 Anthony is doing is best Michael Jordan impression.
On this final play, Anthony shows his ability to make his OL reads, and get his hands on the ball carrier. At the same time, he shows a flaw in his game. Once he meets the ball carrier in the hole, he doesn't square up and make a tackle. Instead, he tries to spin the RB down, which the RB is able to step out of for a 3 yard gain. The upside is, Anthony disrupted the play enough to allow the other defenders to make the play.

Stephone Anthony, has the ability to be a 3 down LB at the next level. He has the speed and athleticism to cover TEs, blitz the QB, and make plays in the backfield. At the NFL Combine, Anthony measured in at 6'3 243lbs and ran a 4.56 40. Anthony ran faster than most safeties. With other LB stock falling, look for Anthony's stock to rise.
Video courtesy of DraftBreakdown.com http://draftbreakdown.com/video/stephone-anthony-vs-syracuse-2014/