Vic Beasley (Known to me now as Vic Beastley) had questions about his ability to play DE at the next level, mainly due to his size. (6'3 235) At times he struggled to disengage blocks, so scouts and coaches want to see him get stronger. Vic Beasley (Beastley) came into the Combine, measuring in at 6'3 246 lbs. He then proceeded to put up 225, 35 times! Only Mitch Morse (36) and Ereck Flowers (37) had more reps than him. Beasley came in 11 lbs heavier than his playing weight, and really showed up on the bench press. I think it's clear, that Beaslely (Beastley) has worked very hard in this off season to prove he is ready to make it in the NFL.
Below are some examples of Vic Beasley's closing speed.
The 1st play, Vic Beasley is standing up at OLB. In this play, Gurley is running a power, between the RG and RT. Beasley (Beastley) is able to find penetrate, find the football, shed the block, and make the tackle on Gurley for no gain.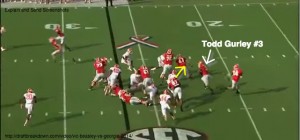 The next play really shows his first step quickness. That's the main focus of this play. If you look closely, Beasley fires out, before the OT can even get out of his stance. The OT is forced to over extend, and Beasley does a great job of using his hands to drive the OT to the ground, and closes in on the sack.
Beasley may have made himself some money in today's workouts. Beasley can play a Bruce Irvin style role in a most defenses. Beasley is locking himself in as a 1st round pick. Possible top 10 pick. After today, I'm officially calling him Vic Beastley after today's combine.
For more of my take on Beasley from earlier in the year: http://sidelineblitz.com/fan-pick-friday-vic-beasley-de-clemson/